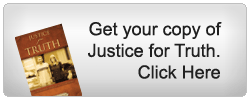 Or call Toll-free: (866) 909-2665

When J.D. Morrison's son, Richie, mysteriously dies, she finds herself caught in the snare of a corrupt Medical Examiner and a greedy billion dollar corporation. Read this true story, and be spellbound as you discover how a seemingly minor car accident initiates earth-moving aftershocks.
Follow along as Morrison leaves a lucrative computer-programming career to take on an apathetic political system and clear her son's name. You will be amazed at how age-old biblical prophecies and strange number sequences come into play as Morrison is guided toward truth and justice.